The Board meets at 6:30 PM the fourth Tuesday of every month at the Fire Station, unless otherwise noted (see schedule in District Information Page).
NOTICE OF VACANCY ON BOARD OF DIRECTORS

VOLUNTEER NEEDED for CLERK of the Board
Link to Board Meeting Agenda
Visit our Facebook Page For Recent Photos and Information
WINTER SAFETY TIPS!!
AVOID FLUE FIRES!! Clean your chimney!!
SUBSTATION ON RICE'S CROSSING ROAD
Click
here
for more information. This may reduce insurance costs for homeowners living in the Regent Way/Ure Mountain area.
Helpful hints for District Homeowners:

Help us to help you by having a reflective address marker, and make sure access to your home is free of overhanging tree limbs; fire engines can be 14 feet tall!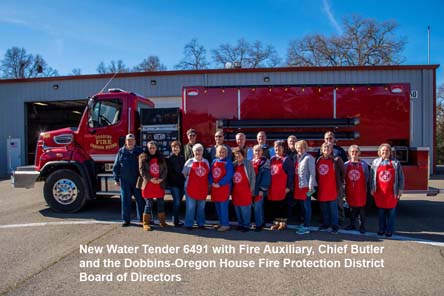 Welcome to the Dobbins/Oregon House Fire Protection District Website.
This site provides information about the district, the Board of Directors who administer the district's business, and our volunteer fire department.